HP Tuners VCM Suite v2.1.18 is Now Available!
04-03-2007, 05:38 PM
LS1TECH Sponsor
Join Date: Nov 2001
Location: Chicago, IL
Posts: 2,402
HP Tuners VCM Suite v2.1.18 is Now Available!
---
HP Tuners VCM Suite v2.1.18 is Now Available!
At the end of another busy development cycle, HP Tuners is pleased to announce the release of VCM Suite 2.1.18. This release brings GM V6 "Alloytec" engine support, some licensing enhancements and also sets the foundation for our official Ford release. Read on!!
Major new features in v2.1.18:
- Holden "Alloytec" V6 engine support for Commodore, Rodeo and Captiva vehicles
- Licensing enhancements (read any vehicle, licence a file capability)
- Ford Beta testing begins (2.1.19 beta)
- Support for additional 2007 GM vehicles, new operating systems and calibrations
- Several critical bug fixes.
Once again, we would like to thank our dedicated team of forum moderators, beta testers and all our valued customers who assist and provide idea's to make VCM Suite the best tuning solution on the market. Your enthusiasm and dedication is truly appreciated by all HP Tuners staff. As we journey into Ford tuning and making VCM Suite a true cross platform product we hope all our customers share in the exciting times ahead!
Holden "Alloytec" V6 engine support
In another industry first for HP Tuners, we bring tuning and scanning support for the Holden "Alloytec" V6 vehicles. This new V6 engine controller has proven tough to beat, but after a successful beta test period we are ready for public release. Many tuners are seeing great torque, power and driveability gains on these engines and the market can finally develop for intake and exhaust mods to these engines. With VCM Suite enabling tuners to unleash the power gains for these traditional mods, the more exotic setups are not far away. We look forward to the coming months!! Support for US vehicle calibrations are in development right now, so our US customers won't have to wait much longer - watch the website for beta announcements for US vehicles.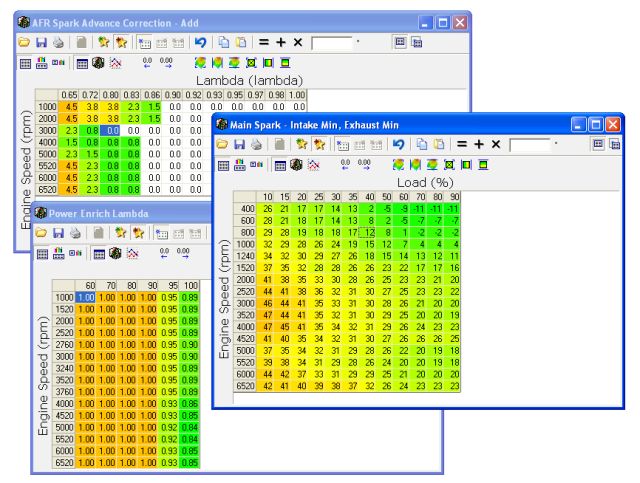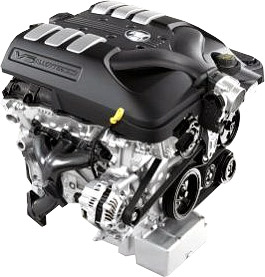 Licensing Enhancements
In an effort to streamline our support processes to ensure the fastest response and least inconvenice possible to various support issues, we have made some changes to the licensing process. In VCM Suite 2.1.18, users will now be able to
read any
supported vehicle
before
being asked to license. This saves time and unnecessary software downloads to provide support to new calibrations or unknown vehicle types.
Additionally, as a feature enhancement for our large mail order tuner customer base this release provides "license a file" capability where you will be prompted to license any file you open that you are currently unlicensed for. If you do not choose to license the file then you will still be able to view the file but will be unable to edit or save (as is the case currently).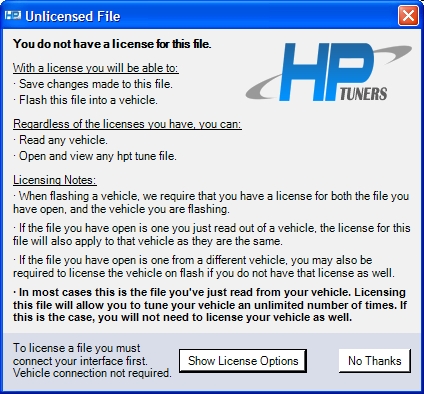 Ford Beta
HP Tuners is excited to announce public Ford beta testing! After numerous delays and non-technical issues Ford support is finally here for VCM Suite. With this release you will be able to
read
any of the following vehicles if you have an MPVI interface:
05-07 Ford Mustang V8 4.6, 5.4
05-07 Ford Mustang V6 4.0
04-07 F-Series Gas V8 4.6, 5.4
03-07 F-Series Diesel V8 6.0
08 F-Series Diesel V8 6.4
05-07 F-Series Gas V6 4.2
07 F-Series Gas V10 6.8
E-Series as well for the same years as the above F-Series
We ask that if you can, read those vehicles and e-mail us the hpt file, and a vcm suite info log while connected to that vehicle.
Note: The list of vehicles above does not imply support or any timeframe for support for tuning (please see below). We are trying to set priorities during the beta and the number of files read and emailed to us will assist in that process. eg. if we receive more feedback from diesel owners than V6 we will develop the diesel calibrations first.
Before we go to full general release, we will begin a public beta testing program with the 2.1.19 beta release. Beta testers will be selected based on participation in the above read program and general history with our previous GM products. To be part of the beta testing you must purchase Ford credits if you wish to tune your vehicle. If you wish to just read your PCM and send us the file there is no credit requirement. Please understand this is beta testing and whilst the major capabilities are functional, there are features that are partially implemented that will be completed in parallel with the testing.
The initial VCM Suite 2.1.19 beta testing will cover the following vehicles (for tuning and scanning):
05-07 Ford Mustang V8 4.6, 5.4
04-07 F-Series Gas V8 4.6, 5.4
We expect the beta to begin in 2-3 weeks.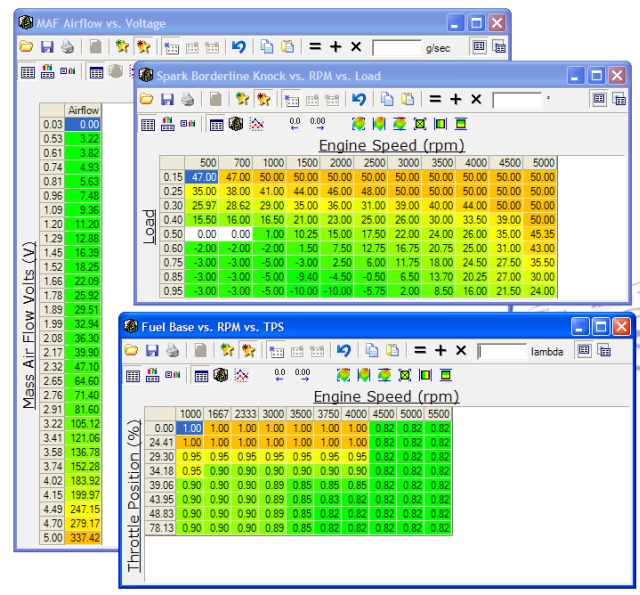 Review our general release & beta release methodology
HERE
.
A complete list of new features and bug fixes can be found
HERE
Obtaining the update
All customers can
login
to download and install VCM Suite 2.1.18. Updates are
FREE
to all customers. MPVI customers who have never logged in, please
create an account
.
Please note that not all listed features and new vehicle types are available on serial interfaces.
For all ordering and pricing information on any of the new vehicles listed above, please see our
Shop Online
and
Supported Vehicles
page.
- The HP Tuners team.
04-03-2007, 05:42 PM
LS1TECH Sponsor
Join Date: Nov 2001
Location: Chicago, IL
Posts: 2,402
Thread
Thread Starter
Forum
Replies
Last Post